Mondays: Meet us at our Gaslight location Monday nights at 6:30p for some cyclocross practice! We'll roll from the parking lot and pay visits to both Wilcox and Manhattan park to practice different obstacles and techniques. Just want to watch? We can all use a little more cowbell practice.
Wednesdays: Ladies, join us for our women's mountain bike ride. This ride is geared towards beginners, and we'll help you gain confidence and hone in your skills! Due to the weather and shortening daylight hours… be sure to check our facebook to find out where we're meeting!
Thursdays: Gravel Rides from Townsend Park at 6:30pm.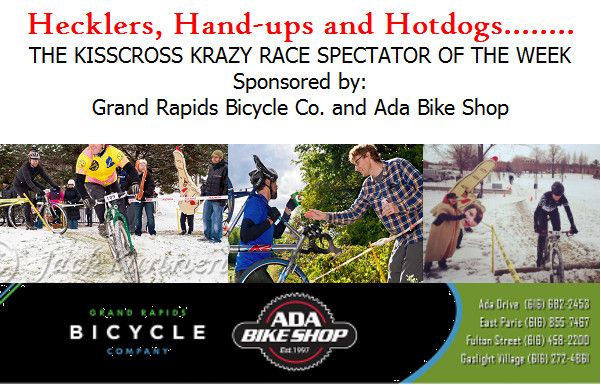 This year we're sponsoring the Kisscross Krazy Race Spectator of the week! Dress in costume, get weird, and be creative! Each race we'll post photos on facebook and the fan with the most likes will be able to claim their prize package: a $25 GRBC gift card, 6-pack of Founders, and a free kisscross race entry.
Club Details
Cost: $125 
Member Benefits:
Each member receives a custom GRBC Sugoi Evolution cycling jersey
Members receive 10% off parts, accessories, and clothing purchased at GRBC
Members receive 25% off GRBC branded merchandise
Members receive advanced access to sales and special events
Free Seminars and Maintenance Clinics
Discounts at partnering businesses: Seva Yoga, Big Bob's Pizza, Gravel Bottom Brewery, Trailhead Cafe and Sweet Yo's !
Special thanks to our sponsoring businesses: D&W Fresh Market, Living Well with Margaux Drake, and The G.R. Shop